4 Ways Tote Bags Are Remarkably Useful Than You Think
If asked, you probably would know a zillion different ways water can be used, but not the same can be said of a Tote bag. One obvious reason why these bags (despite their uniqueness) are less popular among many is due to the insufficient understanding of how relevant they are.
This post seeks to fill the knowledge gap by highlighting six amazing ways Tote bags are more useful than you might think.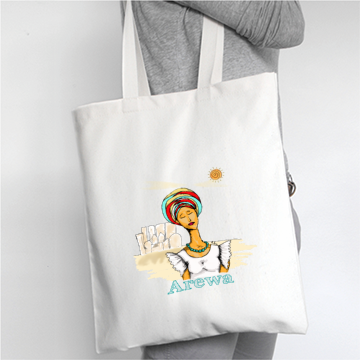 Tangible Souvenir
There's hardly anyone, irrespective of gender or class who wouldn't appreciate a Tote bag gift. No doubt, You must have by chance attended a wedding where you spent an outrageous amount on Aso-Ebi and ended up being given disappointing items like detergent as souvenir… lol.  For businesses  looking at win the heart of their customers and associates, sharing Tote bags with your logo crested on both sides will mean so much to them because it'd join the league of household items they can keep for a reasonably long period. Conferences and birthdays are other popular events where Tote bags will be appreciated when shared.
Minimal shopping Buddy
Following the unreliable nature of poly bags and other bag options used in shopping at neighbourhood stores and markets, Tote bags are superb for minimal shopping due to their strong nature and flexibility.
Perfect Accomplice for your lunch boxes
On days when you're running late or need to save some bucks by packing your lunch to the office, Tote bags are your best bet.  When soiled with oil, they are quick in absorbing and are easily washable (when stained) for a reuse.
Makes you an Ambassador for change
Considering the menace and constant eyesores often caused by improper disposal of plastic/nylon bags, opting for Tote bags will not just exonerate but also allow you pass a statement across to folks still indulging in improper waste disposal (considering that plastic bags have a higher chance of being carelessly disposed).
Order for your personal Tote Bag before midnight and get 15% Discount Instantly
 Backup for bags
For the ladies, there are surely moments when it's just necessary to attend events with heels and sandals. Rather than scrambling round the house in search for used nylon bags, a Tote bag can simply be dedicated for this purpose. In the long run, you'd be able to save money, time and of course preserve your prestige.
"What qualities make the Tote bags stand out?" you might want to ask.
It's reusable nature- all you need do is wash whenever you think it's getting dirty.
Toughness- can withstand much more pressure than the duo of plastic and paper bags combined.
Flexibility- when not in use, it can be folded so small that it sits well inside your palm.
You need to see these  amazing Tote bags designs from the Printivo Marketplace
Comments
comments